Solidar-Topf sets up quartet around BVB and FC Bayern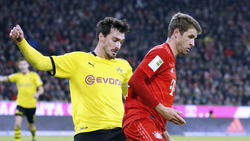 BVB, FC Bayern, Bayer Leverkusen and RB Leipzig show solidarity: the four German Champion League clubs want the financially with around 20 million euros support distressed football clubs in the 1st and 2nd leagues. "Bild" reports on this unique solidarity campaign in times of the Corona crisis.
The German record champions, Borussia Dortmund, RB and the factory manager had agreed on a model for the relief campaign last week.
    
According to the report, the four clubs want to forego EUR 12.5 million that would be due to them under the current TV contract. The money is now flowing into the solidarity pot, and the four top clubs are increasing their total by their own funds by a total of 7.5 million euros – thus 20 million euros would be available. The German Football League should "depending on need" decide which club receives money.